Sam's Story 4
Part 4, Retirement
Go to Part 1
In 1996 we began taking Sam to Flagstaff for the summer to get him out of the summer heat because he developed anhydrosis in the extreme heat of a Phoenix summer. We boarded him with the Cardani family, who were then living in Williams, AZ, in the beautiful mountains of northern Arizona. For the rest of his life, he would spend six months of the year in Phoenix, and six months in the mountains. We drove Sam in the pine forests and into the little town of Williams. (Even took him through the Dairy Queen drive-thru.)
Cart ride in Williams
Cardanis came to love him as much as we did. We bought a small travel trailer and took it north and parked it on their property. For the next eight years, we spent our weekends in northern AZ in the summer. Cardanis eventually moved back to the family ranch in Flagstaff, and we went with them. Sam had a big pasture on the edge of the National Forest.He shared his pasture with deer and elk, and an occasional pronghorn.
In the winter, Sam came home to Phoenix. Although he was becoming arthritic in his hocks, he continued to enjoy going out with the cart or the surrey. He went caroling with the 4H kids, all decked out in tinsel, red velvet bows, and his harness bells. Sam LOVED his harness bells. When he was wearing them he would NOT walk. Walking didn't ring the bells!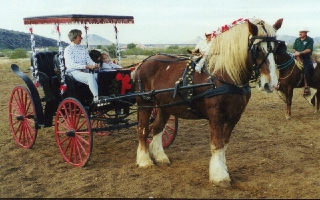 Sam at 22 all decked out for caroling with the 4H kids
Sam died in his mountain pasture of a heart attack at the age of 24 and is buried in his favorite sunning spot at the top of his pasture.
This is my last picture of him.
Sam at 24 in his mountain pasture
Update. On February 2, 2011, Sam's High Note (aka Junior) died of an aneurysm. He was just short of his 11th birthday. Like his daddy, he was a gentle and loving soul who would give you his all at anything you asked of him.
Both Sam and Junior left hoofprints on our hearts, and will be always lovingly remembered.